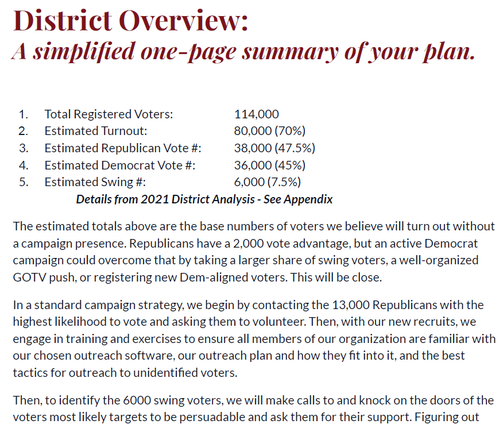 Six Month Field Plan Example
Six Month Field Plan Example
Regular price

Sale price

$0.00
A campaign is a hectic sprint towards election day. Without a clearly defined roadmap, it is easy to get off track. Pressure comes in from nearly every angle, as every volunteer has their idea of how the campaign should be conducted and will probably tell you about it.
With a well outlined, easy-to-understand plan, you can help those would be nay-sayers to buy-in. Nothing in this document is secret, so sharing it reveals only that your campaign is professional and that your plan is sound. In addition, because the document spells out how hundreds of hours of volunteer time equate to victory, it can be used as a motivator for staff and volunteers should you fall behind.
This 14-page example contains an overview of the district and the basic requirements for victory, breaking those goals into smaller and more manageable pieces, spreading the voter contact burden over the next six months. The example district used is about 1/5th the size of a congressional district, or about as large as a state senate district in many states. 
You should adjust the details to meet the specifics of your campaign and add or remove any events, holidays, or trainings as you see fit. Use this document in the next iteration of your campaign calendar and budget. Then, as you expand or develop the other sections of your campaign plan, come back here and adjust your field plan to adapt to those changes.
Dwight D. Eisenhower is known to have said that 'Plans are useless, but planning is indispensable,' which is as accurate to elections as it is to military campaigns. But, again, campaigns are hectic, and something significant will undoubtedly develop that causes you to stray from your plan. When it does, remember that planning is an iterative process that continues throughout the life of a campaign. Change what you need to change, refocus your efforts, and rewrite your plan to accommodate the new reality.
Good luck, and onward to victory!
Couldn't load pickup availability