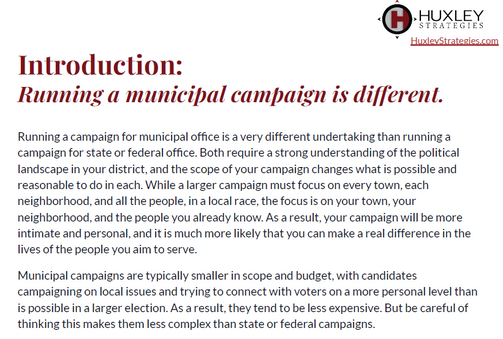 Municipal Campaigns | Campaign Managers Toolbox
Municipal Campaigns | Campaign Managers Toolbox
Regular price

Sale price

$0.00
If you are considering running for a local office, you know that it can be quite different from larger, national campaigns. That's why we've created this e-guide on running a successful municipal campaign.

This guide teaches you how to approach your campaign with a leaner, faster, and stronger mindset. Even with a small scope, there are big opportunities for you to make a real impact. We'll show you how to focus on the local issues that matter most to your potential constituents and gain broad support. And because time is of the essence in a municipal campaign, it's essential to approach it as a sprint, not a marathon. We'll provide you with strategies for making the most of your time and resources.

Our guide will provide tips for non-partisan campaigning and show you that you're not as alone as you might think. And for experienced candidates and staff, we'll offer suggestions for experimentation and trying new approaches. With our e-guide, you'll have all the tools and strategies you need to run a successful municipal campaign. Download this free guide today and take the first step toward making a difference in your community.
Because writing a budget and planning your voter outreach is essential to a winning campaign, we have FREE downloadable resources to get you started. Check out our Six Month Field Plan Example, guide to Outlining your Campaign Plan, and Budget Templates.

Couldn't load pickup availability